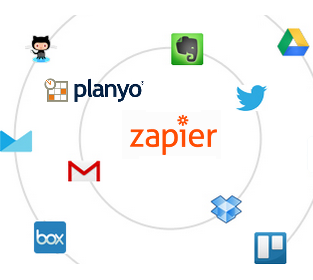 Zapier lets you connect planyo with thousands of other cloud apps. If you want to integrate planyo with another app you use, thanks to Zapier you don't need to search for a dedicated integration, simply create a Zapier automation (zap) which will do this for you.

The following triggers (events) are currently available:

New reservation is entered
Reservation gets confirmed
New payment was made
Customer checks in
Customer checks out
Reservation is cancelled by the customer
Reservation is modified by the customer
When one of these events happens, you can then perform any action using thousands of other apps!
You can also use triggers from other apps in order to perform an action in Planyo. The following actions are currently available:
Create a new reservation
Create vacation
Add a new customer
Click here for an example video showing how to create a zap which sends a document signing request with prefilled data for new Planyo reservations
Here are the some suggested integrations. If you don't find the one you were looking for, simply create your own in just a few minutes!
CHF 3.9/Monat
Monatsabonnements für die Erweiterung kaufen. Die Erweiterung ist auf unseren Servern gespeichert, so dass keinerlei Installation nötig ist. Dies ist die einfachste Art, eine Erweiterung zu nutzen.

Der erste Bezugsmonat ist immer kostenlos, so dass Sie die Erweiterung testen können. Nach den ersten 30 Tagen wird Ihr planyo-Konto so lange automatisch mit der Monatsgebühr belastet, bis Sie Ihr Erweiterungs-Abo kündigen. Ihr Konto muss positiv sein, damit die Belastung erfolgen kann.